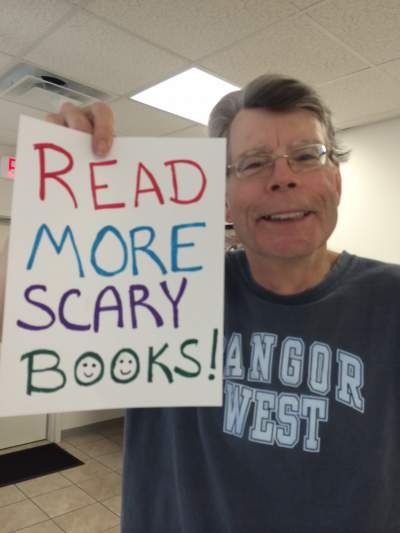 December 9, 2014: Stephen King – Le opere segrete del Re is the official Italian version of Stephen King: Uncollected, Unpublished. It was published in e-book in December 2014 by Kipple Officina Libraria. The book features cover art by Ben Baldwin, and is available on Amazon's Italy site. More information here.
December 8, 2014: The video of Rocky's funeral service will be available to watch for the next month. Please click here to view.
December 2, 2014: We are very sorry to report that Rocky passed away yesterday due to complications from MND (also known as ALS and Lou Gehrig's Disease). Here's HWA's official press release announcement. We will continue to maintain this site; in the meantime, please sign the Guestbook. Thank you.
November 23, 2014: Stephen King: Uncollected, Unpublished 2014 Update is now available in both trade paperback and e-book. Big Steve again graciously helped clear up many mysteries and provided succinct commentary! Click here for more, or read the official press release.
November 23, 2014: The Horror Of It All is a collection of interviews spanning all facets of the horror genre, including novels, film, horror hosts, dark fiction, cover art, and special effects. With a foreword by the incomparable Jonathan Maberry, this book is sure to engage, inform, and enlighten every true-blue, horror enthusiast. Even better, 100% of every book sold will be donated to benefit those of us suffering from ALS/Motor Neurone Disease. (Lou Gehrig's Disease).
Buy the book here: http://www.amazon.com/dp/B00OKILRDM/ref=cm_sw_r_fa_dp_Ntbwub0CGV5KN
October 11, 2014: Rocky has uploaded his "horror selfie" to www.horrorselfies.com : http://horrorselfies.com/rocky-wood/ . Rocky says, "Well folks, despite the ravages ALS/Motor  Neurone Disease has wrought upon my body I decided to submit this photo of how I look now. That's the best I can do to approximate a smile as most of the muscles in my face are either atrophied or too weak to respond. Hope you like the T-shirt. There's a line in the fold. It reads, 'if zombies were chasing us, I'd trip you'!"
He challenges you to upload your horror selfie as well. Amongst ideas for your selfie – hold up your favorite Rocky Wood book; or your favorite Stephen King book!
Stephen King sent his horrorselfie in: http://horrorselfies.com/stephen-king/ . Why not you?
October 7, 2014: Uncle Stevie says it best. Head on over to www.horrorselfies.com for more horror selfies, and the chance to win signed horror books (including from Peter Straub) by uploading your own horror selfie. And SHARE this photo so we get Steve's message to the masses!
September 29, 2014: Douglas Hawk asks Rocky "7 Questions".
August 19, 2014: I am absolutely humbled by Stephen King taking the ALS Ice Bucket Challenge in honor of myself. Big Steve has a big heart: https://m.youtube.com/watch?v=XO7lFV2e-xA&feature=youtu.be
I'd like to encourage you to take the challenge, which is about awareness for ALS/Motor Neurone Disease (Lou Gehrig's Disease). You either take the challenge or donate to an ALS/MND charity. Then you challenge three other people either to take the challenge and post video/photo of themselves AND / OR donate (most people do both).
More on the Disease and how to donate at: http://alsa.org (US), https://www.mndaust.asn.au/Home.aspx (Australia), https://www.mnd.asn.au/fundraising1/67-donations.html (Victoria, these people directly support me with equipment)
Please share by including Challenge and Donation information plus links of how to donate and raise awareness in your area.
August 6, 2014: Rocky is featured in the Australian Spec Fic Snapshot.
July 4, 2014: July 4 is the 75th Anniversary of Lou Gehrig's Farewell Speech at Yankee Stadium. As someone who also suffers from the disease which is unfairly tagged with his name (correctly ALS or Motor Neurone Disease) I empathize with his statement that "I am the luckiest man on the face of this Earth" and, although given "a bad break", "I have a lot to live for".
June 28, 2014: Big news from my publisher, the Overlook Connection Bookstore and Press – a new update to my Stephen King Uncollected Unpublished will be released in a few months. 'Stephen King: Uncollected, Unpublished 2014 Update' is 55 pages of new material from my research – even more stories from King's early years as well as recently uncollected stories. And plenty of comments from the master himself.
The Update will be issued both as an ebook and a paperback.
February 23, 2014: KnippKnopp interviews Rocky mainly about HWA
February 21, 2014: Julianne Snow interviews Rocky about Women in Horror Month at Dark Media Online
January 2, 2014: Masters of Horror Interview with David Kempf
December 10, 2013: A new interview with Rocky at La Zona Morta (scroll down for the English version of the interview)
November 27, 2013: A new interview with Rocky at Richard Godwin's Quick Fire at the Slaughterhouse site
October 15, 2013: Rocky is quoted in this Forbes article on body counts in Stephen King movies
October 15, 2013: Rocky is the featured interviewee at HWA's Halloween Haunts Blog!
September 23, 2013: Stephen King on Rocky Wood
Rocky Wood was my go-to guy for all things Shining, providing me with names and dates I had either forgotten or plain got wrong. He also provided reams of info on every recreational vehicle and camper under the sun (the coolest was Rose's EarthCruiser). The Rock knows my work better than I do myself. Look him up on the web sometime. He's got it going on.
–          Stephen King in the Author's Note to Doctor Sleep
While writing Doctor Sleep, the sequel to The Shining, King employed Rocky to do research, particularly on maintaining continuity between the two novels. "As you can expect, it was a great pleasure working with Steve and reading Doctor Sleep as it was written. Fans of King and those who want to know more about what happened to little Danny Torrance after the events at the Overlook Hotel will not want to miss this. It's clearly one of Steve's best works of recent years, with an almost unimaginably terrible villain, another of his signature child characters, and a chain of events that will keep readers glued to the book to the last page. Constant Readers will find a bunch of 'Easter Eggs' – the generous references to other characters or places in the King universe. But, above all, this is King at his finest – relating the tale of one man's struggle to find a place to stand, a young girl's fight against unyielding evil – and returning to his eternal themes of hope and redemption."
September 20, 2013:
Rocky's input on Stephen King's forthcoming book, Doctor Sleep, is making news headlines.
The Early Readers Club has interviewed Rocky over on their site and the Herald Sun newspaper in Rocky's hometown of Melbourne has also run a story.
August 27, 2013: The September 2013 issue of Wired features an article about Rocky (page 78):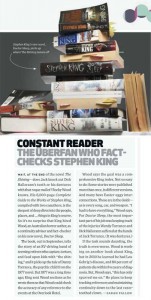 Read online at: http://www.wired.com/underwire/2013/09/ap_doctorsleep/
August 5, 2013: The next Horror Writers Association Roundtable will be on the Continuing Impact of Stephen King. Join me and two great experts  on this subject – Dr Michael Collings and Bev Vincent – at 8pm Sunday 11 August (US Eastern Daylight time). For Aussies that's 10am EST on Monday 12th. If you can't make the time you can always drop in later, read what we had to say and add your own comments. Audience interaction will be live after 8.30pm US time and the three of us will be responding  until 9.30pm US time:
http://www.horror.org/blog/horror-roundtable/

June 20, 2013: I am pleased to report that my graphic novel, Witch Hunts: A Graphic History of the Burning Times, won the prestigious Bram Stoker Award at a gala ceremony I attended in New Orleans on June 15. The Bram Stoker Awards are given by the Horror Writers Association. Full list of winners here: http://www.horror.org/blog/?p=4232 . My co-author Lisa Morton also won the Bram Stoker Award for Non Fiction for her superb Trick or Treat: A History of Halloween. Thanks to Lisa and our brilliant illustrator Greg Chapman for their work on Witch Hunts.
(Photo to left of Rocky and Lisa is by Dave Hinchberger; photo below of the 2012 Bram Stoker Award winners is by Stacy Scranton.)
May 29, 2013: Adventures in Censorship
A blog post by Rocky Wood, 29 May 2013
On Tuesday US time Facebook notified Lisa Morton, Greg Chapman and myself that the Facebook page for our graphic novel, 'Witch Hunts: A Graphic History of the Burning Times' had been suspended as someone had complained it contained 'bullying'. We could appeal. Lisa did so. Without any further communication the page was deleted for not matching 'community standards' and to top it all off we were all banned as owners of the page from posting on Facebook for 12 hours.
I have fought censorship all my life and now this insult from a faceless corporation which shelters behind US law but has no respect for the First Amendment. There was nothing on our page which is not in our book. We deal with an historic tragedy – the torture and killing of innocents for centuries under the guise of 'witch hunting'. Our book is a nominee for a major literary Award from a highly reputable writers group. And not one post on our page could be classed as 'bullying' anyone, except perhaps the long dead inquisitors and witch hunters who so savagely hunted 'witches' (read those cast out of society, those who lands or wealth were coveted, and those who fell under the dead eye of jealous neighbors).
One encounters soft core porn, outrageous personal abuse, bullying, misogyny, misanthropy, racism, hate speech from and against Christians, Muslims and other groups on Facebook without even trying. Facebook infests my News Feed with ads for sex sites and 'dating sites' that are clearly a cover for porn, and invites me to Like or get involved with many things that offend me. Yet I accept this is part of free speech on social media. I have been abused and personally vilified on Facebook – my answer is to delete and block the person. I don't run to momma and cry on her apron strings.
But here is the real nub of the matter. Why was this page deleted? Did one crazy person complain and if so, are all our pages at risk from lone vigilantes supported by this faceless corporation, which clearly uses algorithms rather than people to manage its business? Is Horror itself at risk in Facebook (for much horror is a lot more graphic than our book)? Is History that doesn't suit the world view of some at risk on Facebook? Or can say one author who doesn't like another author or their work sabotage their pages in this manner? I wouldn't expect that was what had happened here but what's to stop that in the 1984 world of  Facebook?
How far is it from Facebook deleting innocuous pages such as ours to book banning, and book burning? That slope is very slippery. I unreservedly condemn Facebook's capricious actions, lack of transparency in dealing with complaints, and the outrageous censorship they have indulged in.
Barely two weeks before a book I am very proud of is a nominee at a major Award ceremony the Facebook page is removed. There is more than a little irony in Facebook figuratively burning our page at the stake. For those who care about Censorship I would appreciate your sharing this story. For this who support our book, please be sure we will be back. In the meantime our website remains at http://www.witchhuntsbook.com/ (at least until such time as Facebook or other Internet censors find a way to remove it).
Shame on you Facebook. And the next time you spam me with your offensive ads or try to force me to spend money promoting my own posts you can be sure of my reaction.
Rocky Wood
Melbourne, Australia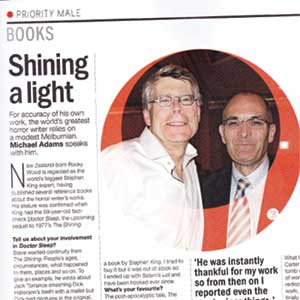 April 9, 2013: Men's Style Australia magazine runs a full page profile/interview of Rocky in their latest issue (Autumn/Winter #54). Unfortunately, the magazine is not online but it isavailable at newsagents in Australia from April 11.
April 8, 2013: Big news, people.
Justin Brooks has just published a MASSIVE update to his unbelievably comprehensive BIBLIOGRAPHY of Stephen King's work. I have worked closely on this with Justin for years and wrote the Introduction. You'll find no more comprehensive a listing of King's material than here.
The newly revised 2013 edition of Stephen King: A Primary Bibliography of the World's Most Popular Author is by far the most comprehensive Stephen King Bibliography ever produced, with 1450 separate entries, each with a short description and full source data, from publication information right down to page numbers!
Author Justin Brooks spent twelve years compiling this outstanding reference work, with the assistance of many of the leading King researchers, collectors and 'super-collectors'. Covering all King's published and known unpublished works from 1959 to the beginning of 2013 it reveals for the first time dozens of works and appearances previously unknown to King researchers.
Every known English language appearance of the nearly one thousand pieces of fiction and non-fiction (along with screenplays, plays, poems and even recipes and puzzles) are listed, many of which were also previously unknown in the King community.
Working from original sources Brooks has identified and corrected numerous errors in the previous reporting of material–incorrect titles, dates, pagination and even publication information.
If you've ever wanted to build your King collection to ensure you have every piece it is possible to collect, in all their forms, this is the reference work you must have.
Introduced by noted King researcher Rocky Wood, author of Stephen King: Uncollected, Unpublished.
Cover by the amazing Glenn Chadbourne, artist guest of honor at this year's Bram Stoker Awards (R) Weekend, incorporating World Horror Convention.
It's in ebook form only and published by Dave Hinchberger at the Overlook Connection – kindle version here.
March 18, 2013: My presentation to the 68th World Science Fiction Convention in Melbourne (2010), has been serialized in three parts, by The Scarlet Executioner blog:
http://boiascarlatto.blogspot.it/2013/01/stephen-king-why-so-many-readers-and.html
http://boiascarlatto.blogspot.it/2013/02/stephen-king-why-so-many-readers-and.html
and
http://boiascarlatto.blogspot.it/2013/03/stephen-king-why-so-many-readers-and.html
Enjoy!
February 23, 2013: Witch Hunts: A Graphic History of the Burning Times has just been announced as a Bram Stoker Award® finalist in the Graphic Novel category! Here's what Rocky had to say: "I am proud to receive this important recognition from the Horror Writers Association. I've written non-fiction for 35 years, but Witch Hunts is only my third piece of published fiction, so to receive such a prestigious nomination for it is indeed an honour. I have to say the combination with Lisa's writing and Greg's outstanding artwork simply proves that outstanding teamwork can deliver superior results, so greater credit is due to them." The full list of finalists can be found on HWA's official blog.
February 1, 2013: In an interview with Entertainment Weekly, Stephen King talks about how Rocky assisted with Doctor Sleep:

Click here to read the full interview.
January 16, 2013: New book trailers for: Stephen King: Uncollected, Unpublished and Stephen King: A Literary Companion have just debuted!
January 8, 2013: Creature Feature has named Witch Hunts one of 2012's Top Ten Books!